Behaviour Management
Our expectations
We expect high standards of behaviour from all pupils and staff, which are encompassed in our school HEART values including the following:
Honesty – to own up when something goes wrong or the wrong choice has been made.
Empathy - through showing care and consideration for others.
Achievement – where we praise and recognise good behaviour. 
Respect - towards all people, in manner and tone of voice. We also expect care of property - school, personal, and others.
Teamwork - we encourage everyone to cooperate and show good manners.
In our policy you will read about:
Why children need to be well behaved at school
Possible reasons for poor behaviour at school
Creating the climate
Bullying – we also have a separate bullying policy
Using Rewards
Sanctions
Our process for behaviour management:
We encourage all of our children to tell an adult if they have had, or are having a problem. All staff will listen sympathetically, investigate sensitively and where appropriate refer the issue on to the Class Teacher, Senior Leader or Headteacher. No issue, however small or large, whether a one off incident or a pattern suggesting bullying will be ignored. We believe passionately that all children are entitled to feel happy and safe in school so our management of behaviour is a crucial part of our job. 
 If children are working hard, trying their best and displaying our heart values there are a number of ways that this can be rewarded in school. The chart below outlines the systems we use across the school to reward and encourage positive behaviours.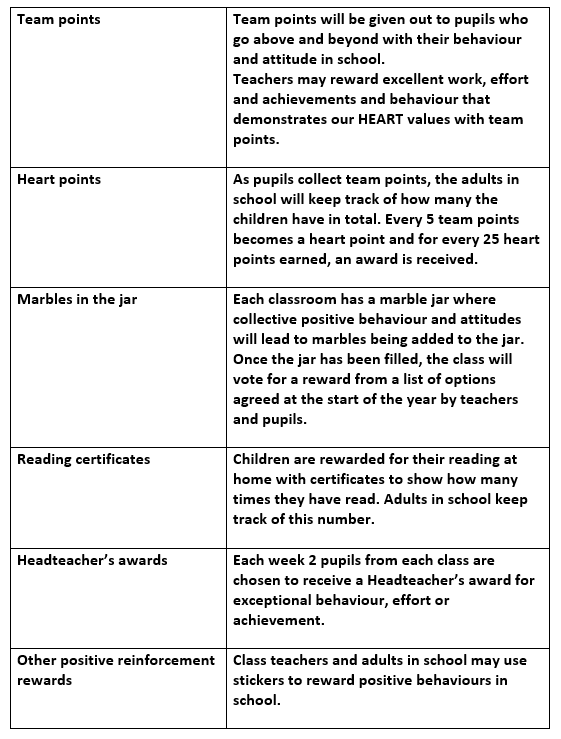 Below is our behaviour chart which is followed by all adults in school. If a pupil or pupils display poor behaviour choices in school, this escalation chart is followed by staff working with the pupils. Parents are kept informed if their child is making poor behaviour choices and the school, parents and pupil work together to resolve any issues quickly.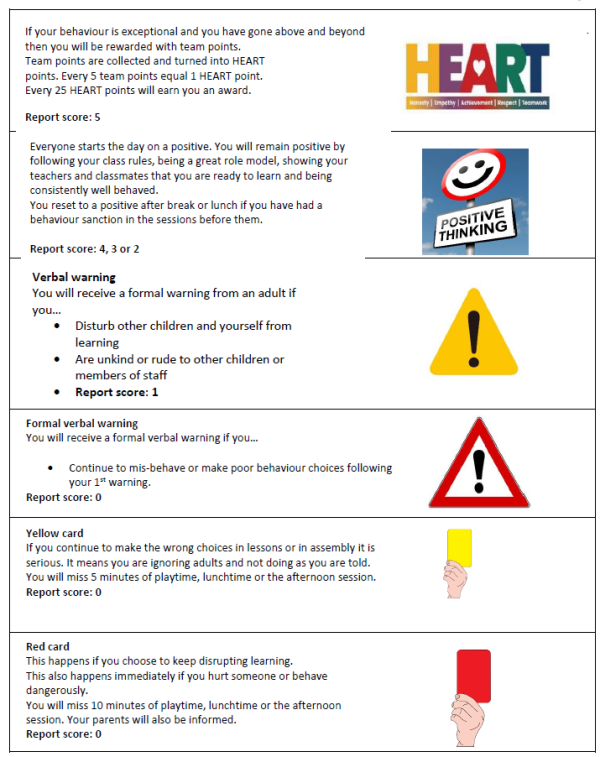 Our Behaviour, Antibullying and Home School Agreement policies can be found under Our School in Policies.