Phonics and Reading
Phonics and Reading at Duke of Bedford
At The Duke of Bedford Primary School our intent is that every child becomes a fluent reader by the age of 7 (end of ks1) to enable them to access life long learning across the curriculum.
We aspire for all of our children to have access to a rich, diverse and varied reading diet that fosters a love of books and reading. In turn this will create independent readers and thinkers that can make independent, informed choices about their books and what they enjoy most. 
Our intent, implementation and impact statement for reading can be found here.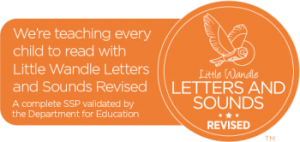 Phonics and early reading
At our school we are following the Little Wandle letters and sounds programme for teaching early reading. There is a substantial body of evidence which demonstrates that systematic synthetic phonics is the most effective method for teaching all children to read. Phonics teaches children how to recognise the sounds that each individual letter makes, identify the sounds that different combinations of letters make, and blend these sounds together to make a word. Children can then use this knowledge to decode new words that they see. This is the first important step in learning to read.
All of our pupils from Pre-School, EYFS and Year 1 take part in daily whole class phonics lessons. Pupils who are identified as needing further support with early reading take part in small group catch up sessions in order to bring them closer to the age related expectations for reading. Pupils in classes beyond Year 1 who still require phonics sessions to develop their decoding and fluency skills take part in daily phonics sessions. 
Children are assessed in phonics every half term. This ensures that pupils who are at risk of falling behind are quickly identified and helped to keep up. Assessments also guide the teacher to what level books the children should be reading.
Reading Practice sessions are an integral part of the Little Wandle Phonics Scheme. There are 3 sessions per week for children in EYFS and Year 1, as well as those in Year 2 who have not yet secured their phonics learning. During these sessions, children read a book matched to their phonic ability. The first lesson concentrates on fluency and understanding the vocabulary. The second session develops prosody: the children will be taught how to read with intonation paying close attention to the punctuation. Finally, the third session is a comprehension session where children answer questions about the text. Each session the children read the same text, building familiarity with the text and fluency in reading.
Please click here to be redirected to the parent support area of the Little Wandle website. The resources on the Little Wandle Letters and Sounds Revised page will help you support your child with saying their sounds and writing their letters. There are also some useful videos so that you can see how they are taught at school and feel confident about supporting their reading at home. Below is a link to a useful document for parents and other adults who are involved in supporting pupils with learning to read, it explains a lot of the terminology used within our phonics lessons in school so that this can be reinforced at home.
Little-Wandle-phonics-terminology.pdf
If you would like more information about how to help your child with their reading at home, please speak to your child's class teacher in the first instance.
Fostering a life long love of reading
Across our school we endeavour to expose our pupils to a wide range of high quality, engaging and inspirational texts. Each year group has a core spine of quality texts to explore as a class reading book or within whole class reading sessions. These books have been carefully chosen to cover a range of genres, stretch vocabulary, encourage critical and analytical thinking and promote a love of reading.
From Year 2 throughout to Year 6, pupils take part in daily whole class reading sessions. Teachers choose texts from our core reading spine to explore with the children. These sessions aim to widen vocabulary, develop fluency and advance comprehension skills.   
Here you can find links to our Core reading and poetry spines which are updated regularly.
Below are some links to texts that have been recommended for primary aged children.
Recommended-reads-for-Year-5-and-Year-6.pdf
Recommended-reads-for-Year-3-and-Year-4.pdf
Recommended-reads-for-EYFS-and-KS1.pdf
We would also like to direct you to this website which is updated regularly with recommended texts for each year group. 
Supporting reading at home
The most significant way to support your child in their reading journey is to enjoy a wealth of stories together. Traditionally bedtime has been a perfect time to cosy up and enjoy stories as a family. Listening and engaging with stories is an important part of learning because it builds concentration, widens vocabulary and exposes children to language composition.
Children at our school in Reception and KS1 will bring home a home reading book and a class library book. The home reading book is closely matched to their phonic knowledge so the child will be able to read the book comfortably blending sounds they know and developing fluency. In addition to this pupils will have the opportunity to borrow a class library book which is to enjoy with grownups and siblings at home to enhance reading for pleasure.
Once children have progressed through the reading scheme they will be a 'Free reader' where they will be able to borrow a range of fiction, non-fiction and poetry books to read at home and at school. All children in school have a Reading diary which is used to record their reading and communicate between home and school.